YOGA CLASS DESCRIPTIONS
At Junction 9, we offer a wide variety of instruction and class styles. Our classes are non-sequenced. We love to let our teachers share their creative style along with their deep knowledge to create physically challenging classes. Changing things up avoids overuse injuries as well as reaching physical plateaus. Non-sequenced classes allow you to continually feel and see your body and mind as you put in time and energy.

Our yoga program is designed as a centre to offer the many different styles, schools, practices and goals. We strive to offer a well-rounded approach to the mental, spiritual, and physical practice - our focus involves more than just the postures. All of our classes are open to everyone, unless specified with a prerequisite.

We recommend committing to 2-3 classes a week to experience the benefits of a regular practice. We also believe that balancing your Yoga with a weekly Pilates class will help you build additional strength and tone.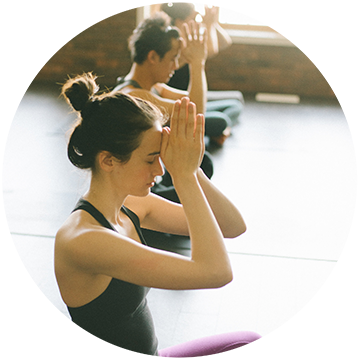 A class drawing from various lineages of yoga. This class is based in flow, movement and breath. Each teacher will bring their own tools to the class to challenge you physically and mentally but allow you to experience the magic of this style of class. Be prepared to sweat, laugh, and work hard.
Matching movement and breath, heart with lungs. Your teacher will create a fluid unique sequence with a primary focus on generating internal heat through breath, sun salutations, balance, and strength. You will get to experience a different practice every time you take this class as our teachers use their creative abilities to challenge and help you grow. This practice ends with a guided meditation and savasana.
You guessed it! This is a power class steeped in endurance, stamina, breath, and commitment. An energetic practice that blends sweat, strength and flexibility in a class that thoroughly tones the body and disciplines the mind. Open to all levels, yoga background would be considered an asset - but more than that, an openness to try new things and challenge your body and mind.
A practice designed with function and fundamentals of a Hatha based class. In this class there has been a deliberate omission of Sun Salutations to bring a class that moves at a very accessible pace to bring focus to awareness of the body. This class is focused on challenging, strengthening, and teaching a very strong foundation of physical postures. Our teachers will offer options for injuries, and newer students. Please note this class is still dynamic and will get the sweat dripping and your blood flowing.
A registered class on our schedule, drop in subject to availability. Please check our workshops page for session times and dates, as these classes aren't offered all of the time. Join a community of beautiful mammas for a weekly practice to unwind, relax and grow ever more steady in the wisdom of your physical body. Each class will focus on creating a sense of strength in the body, deep connection to breath, complete relaxation, and offer a sacred space for peaceful connection to your growing baby.
A gentle practice that still creates a chance to challenge the bodies patterning and develop a slower practice that focuses on the connective tissue and deeper tissues in the body. Main focus is brought to the hips, back, shoulders and creating longer slower holds to allow the body to open in process. Everyone welcome.
A restorative and yin based practice with the use of props. This is designed to nourish your body and your mind, giving relief to your muscles, bones and joints and peace to your thoughts. A slower paced class with holding poses longer, allowing time for reflection, and an opportunity to free up tension. This class is a moving meditation with a focus on letting go, unwinding, and surrendering. Everyone welcome.
A well-balanced blend of flow and movement for the body to begin the practice, followed by a slow and deliberate yin practice to close. A great practice if you are looking for the best of both worlds blending our flow class and our restore class.
Yoga Nidra is a systematic relaxation practice that guides practitioners to an expanded state of the field of consciousness beyond the 5 senses. This wisdom teaching is a portal into one's authentic nature, where the timeless self resides. This understanding reveals the sacredness of present moment time, how to use visualization effectively, and uncovers a deeper understanding of who we are. Tracking time in quiet brain states will be encouraged, as this is where the mind is most receptive to accept new information, instruction and up-to-date programming that has the potential to shift and alter core internal patterns (samskaras) that then transform external reality and perceptions.
Join Wolf Pack YYC on the mat with Junction 9 to set an intention, flow through an afternoon yoga class, and go out for a nice cold beer after. Wolf Pack on the mat is by donation, with a suggested donation of $15. Funds and donations raised through Wolf Pack support Next Gen Men's youth programs and our mission to engage, educate, and empower the next generation of men.

Wolf Pack YYC, an initiative of Next Gen Men, aims to build a community of social support by creating space for the conversations that men don't normally have. We take on the issues that impact us all, from body image and sex, to stress and mental health, through engaging events. Open to people of all genders, so that we can learn with and learn from each other.