YOGA CLASS DESCRIPTIONS
At Junction 9, we offer a wide variety of instruction and class styles. Our classes are non-sequenced. We love to let our teachers share their creative style along with their deep knowledge to create physically challenging classes. Changing things up avoids overuse injuries as well as reaching physical plateaus. Non-sequenced classes allow you to continually feel and see your body and mind as you put in time and energy.

Our yoga program is designed as a centre to offer the many different styles, schools, practices and goals. We strive to offer a well-rounded approach to the mental, spiritual, and physical practice - our focus involves more than just the postures. All of our classes are open to everyone, unless specified with a prerequisite.

We recommend committing to 2-3 classes a week to experience the benefits of a regular practice. Balancing your Yoga with a weekly Pilates class will help you build additional strength and tone.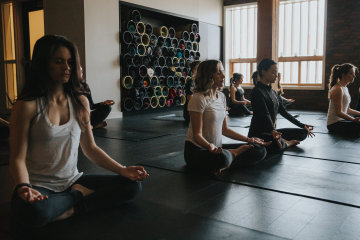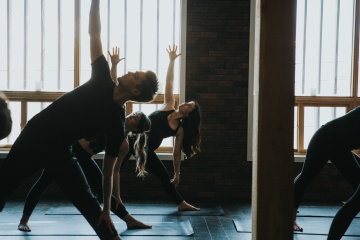 A class of exploration for syncing movement and breath. We will uncover the magic of non-sequenced flow, and how the wide array of postures linked with pranayama with help support and build a strong mind, body and heart. Each class will be a different experience based on your teacher's creative choice and background to bring you to new depths and your edge on that particular day. Vinyasa yoga is an opportunity to challenge yourself while accessing a non-traditional flow and the way in which you show up on your mat. How we do one thing is how we do everything. We can't wait to meet you on your mat, and see where our movement takes us. Everyone is welcome to this class. It will meet you wherever you are in your own personal practice.
"Robust Repose, Dynamic Solace, Energetic Tonic" - Amber Rotar
"Movement steeped in breath + strength" - Jennifer Mehalko
"A class that is always slightly different and inspired by what I am working through in my own life and personal practice. Each class is like a fingerprint, unique and different… just like us. My goal is to link body, breath and mind together in order for us to take our practice even deeper while having a good time within community." - Kate W. Mak
The class is a beautiful balance starting with a steady practice matching movement and breath, heart with lungs. Your teacher will create a fluid unique sequence with a primary focus on generating internal heat through breath, sun salutations, balance, and strength. Once you are warm, muscles primed, you will transition into a sweet surrender of restorative yoga postures and the use of props to allow your mind and body to unwind. All levels welcome.
SUNRISE FLOW
Start your day with awareness, movement, and breath with this vinyasa based practice. This class will get your heart pumping, while working with your body post sleep. An energetic practice that blends sweat, strength and flexibility in a class that thoroughly tones the body and disciplines the mind. Open to all levels.
"A slow, sacred, rhythmic start to the day. Focus is on alignment and breath and deep, intimate self love." Jamie Cameron
In this slowed down class, we have brought focus to alignment. The teacher will offer the building blocks with modifications/alternatives for sun salutations so you will have confidence to head into our Power Class while still giving you a challenge. You will get all the benefits of our flow class, but at a pace to deepen your knowledge, and foundation of the postures. You will be guided through a variety of traditional and non-traditional yoga movements to develop functional ranges of motion and a deeper sense of body awareness. Detailed cuing, creative sequencing and props will help you discover new possibilities of movement. All levels welcome. This is a great class if you are nervous to jump into a Power Vinyasa Class or are dealing with any physical injury that would prevent you from feeling confident in downward facing dog, or sun salutations.
"Alignment based vinyasa. Slow and steady movement with a focus on developing structure and alignment in the body. Develop a strong foundation in your poses to build strength and flexibility." Adriana Britton
"A smooth flowing, strength building and stamina testing practice. Strong focus on postural alignment, with meditation and breath work components." Jamie Cameron
This class will be a unique vinyasa class choreographed to a different Hip-Hop playlist every week. Come with an open mind and take a journey through music and movement. Your teacher will create a fluid unique sequence with a primary focus on generating internal heat through breath, sun salutations, balance, and strength. You will get to experience a different practice every time you take this class as our teachers use their creative abilities to challenge and help you grow. Everyone welcome.
This class is a blend between long held held yin stretches, and more supportive restorative poses to ease the mind and body. Poses will be held between 3 and 5 minutes, while your teacher guides you through mindfulness and relaxation techniques. This is a great class to balance a more active yoga practice or simply unwind after a long day. All levels welcome.
"What I love about the restorative practice is the ability to slow down in asanas to really feel their effect on the body. The use of props helps to encourage the body to naturally release tension while helping to develop new mind body connections. With long holds, there's an opportunity to really process all the sensations that can come up in a pose. For me this is one of the more meditative practices that fosters the mindfulness that yoga is ultimately designed to cultivate." Alfred Sia Lu
A gentle practice that still creates a chance to challenge the bodies patterning and develop a slower practice that focuses on the connective tissue and deeper tissues in the body. Main focus is brought to the hips, back, shoulders and creating longer slower holds to allow the body to open in process. Everyone welcome.
A restorative and yin based practice with the use of props. This is designed to nourish your body and your mind, giving relief to your muscles, bones and joints and peace to your thoughts. A slower paced class with holding poses longer, allowing time for reflection, and an opportunity to free up tension. This class is a moving meditation with a focus on letting go, unwinding, and surrendering. Everyone welcome.
This is a dedicated class on educating rolling techniques and functional anatomy thoughtfully presented through tissue mobilizing protocols and yoga asanas. Designed for motivated individuals to prolong that feel good period after a thorough body work therapy session. Effective prevention of injuries to your fascia, muscle & joints. Rollax is a body therapy resource empowering you through yoga, anatomy & sensation. Body and mind will learn to be more supple, allowing for an accelerated response and optimal output.
During this 75-minute class you will be guided through a yoga asana movement practice that is relevant to the inherent theme of each class, followed by a Yoga Nidra and meditation. The asana practice helps prepare the body for a deep sense of connection, leading to a more holistic experience of relaxation in the body and mind before settling into your extended savasana Nidra practice. If you would like to bring a head/neck pillow, journal and pen please feel free. All Levels Welcome.
A unique guided relaxation practice that re-connects you to your natural state of attention that is always present. 'Conscious' relaxation of the body, correlates with quieter brain states. Tracking time in alpha and theta brain states allow for physical healing, and access to a wider field of resources where the limited ego self does not exist.
Please join us for a 6-week ongoing registered class. A weekly practice to unwind, relax and grow ever more steady in the wisdom of your physical body. Each class will focus on creating a sense of strength in the body, deep connection to breath, complete relaxation, and offer a sacred space for peaceful connection to your growing baby and your changing body. Open to all stages of your pregnancy, all levels and abilities. Drop in spots available.
THE PURPOSE PROJECT - YOGA BY DONATION
At Junction 9 we're all about growing and supporting our community, which is why we've created The Purpose Project. What started as a passion project to give back, has developed into a very special relationship to support The Emma House. The Emma House was founded in 1992 to support vulnerable or homeless expecting mothers by providing safe, supportive, family-like environments, for them to live and plan for their future. They have provided shelter and support to over 140 expectant mothers from across Canada; encouraging women to build new lives away from violence, poverty, or addiction. Join us, every Saturday from 10:50 - 11:40 for a Yoga by Donation (Min. $5) class, with all donations going to The Emma House.