BEFORE YOU ARRIVE
Choose your pass
Check out our
Introductory Offer
for a great deal for first timers.
Book your class
We recommend you
book
in advance to guarantee your spot. First time taking Pilates with us? Please make time to schedule a Pilates Principle Workshop before attending Level One classes. This class will ease you into the basics and introduce you to the Reformer.
What to wear
Wear comfortable, breathable clothes that you can move easily in. We want you to be able to focus on the movement rather than what you are wearing. Socks are mandatory for all Pilates classes. We recommend grip socks.
What to bring
Bring a water bottle and refill with us, we have filtered water so you get the good stuff! Bottles of water are available for purchase if you forget your own. Shower towels ($2) are available for rent at the studio. No need to bring a yoga mat, we will be working on the Reformer. Don't forget your socks!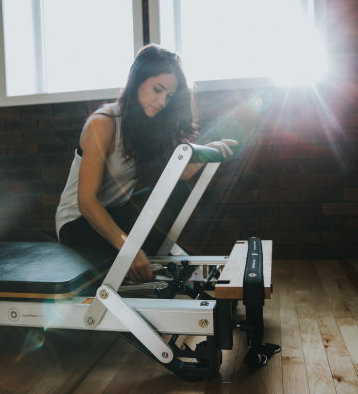 Arrive on Time
Please arrive 15 minutes before your class so that we can settle you into the studio and answer any questions you may have.
Our classes are designed to start and end together, please be on time. If you have pre-registered for a class we ask that you arrive 10 minutes before the class starts to ensure your spot. If you are not present 10 minutes before the scheduled start of the class we will offer your spot to a student that is here on the waitlist.
Sign in
Please say 'hello' to the girls at the front desk. If it is your first visit, and you are 16 years of age or older, you will be asked to sign a waiver before attending class.
CANCELLATIONS AND NO SHOWS
We have a 4-hour cancellation policy. We ask that you provide more than 4 hours cancellation notice for regularly scheduled classes as a courtesy to other members. For cancellations within 4 hours please refer to our cancellation policy.