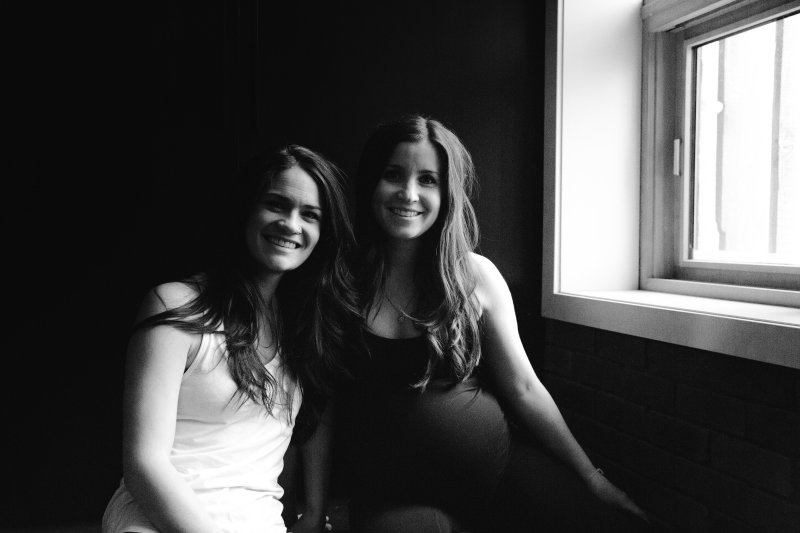 We both love Christmas so much. I personally wait all year until December 1st to dust off my favorite DVDs to get me in the spirit. The last two years we have been blessed with a huge extended family at our studio. The people we have met, the experiences we have had, and the lessons we have learned have all given us so much. Kailey and I are so honoured by all of the people who have chosen to be in our space and support our dream that started four Christmases ago on a beach in Australia after Kailey and Ethan's wedding. It's a time of year where we get to reflect on the pure fact that, yes dreams do come true, and sometimes it just takes a seed of intention, or a really fun family Christmas party.
In honour of the holiday season, we thought it would be fun to share what we love most about this time of year!
Favourite holiday movie?
Jilaine: Christmas Vacation
Kailey: I can't pass up Christmas Vacation, however, this year 'How the Grinch Stole Christmas' seems to be a favourite in our house. My 17-month-old son seems to have a crush on Cindy Lou Who. Her signing stops
him dead in his tracks every time.
Best gift you've ever received?
J: My engagement ring Christmas morning.
K: It was not a true Christmas gift per se, but we had a midwife appointment on Christmas Eve a few years ago and we got to hear our son's heartbeat for the first time. That was by far the most special gift anyone could have given us.
Best gift you've ever given?
J: Saying yes.. Hah. Just kidding. I really like sentimental gifts. I have a favourite picture of my mama holding me as a baby post bath. When my daughter was born i couldn't get the image out of my head so I framed it and gave it to her, for me it represents the bond of a mother and daughter, and the gratitude I have for all that she's done for me.
K: There seems to be a theme here! The same Christmas, to tell my family we were expecting, we had a tiny onesie made that said 'I love my Grandma and Grandpa' and gave it to my parents. I have never been
so excited and nervous to give a gift before!
Favourite holiday tradition?
J: Spending time with family. Eating too much. Laughing so much. When my baba was still alive we would go to her place, and eat the 12 traditional Ukrainian dishes. There was so much history but excitement… even though I never warmed to the pickled herring.
K: I am a sucker for all things Christmas and have managed to make a tradition out of everything...I may have cried one year because my husband decorated the Christmas tree without me?!?! Every Christmas Eve, my parents gave us Christmas pj's, and to this day, we still do this! I love this tradition, and we now do it with our Son. Christmas morning is spent in our new jimmy jams around the tree. I also LOVE our family tradition of singing the 12 days of Christmas around the dinner table - by the time this starts we are all feeling very 'merry'!
Guilty-holiday pleasure (favourite treat)?
J: Omg. Williams Sonoma Peppermint Bark… Seriously. I'm pregnant by the way. I think Kailey's is those Santa chocolate covered marshmallows.
K: Easy! Stuffing, chocolate marshmallow Santas (these are actually pretty gross but bring back so many memories) and shortbread, I love a good shortbread recipe. My husband's Grandma makes THE BEST shortbread, I may have married him just to inherit the family recipe.
Favourite Christmas album?
J: Bing Crosby, White Christmas.
K: The Chipmunks Christmas — not truly a favourite but it always brings back memories of decorating the Christmas Tree. My brother and I would insist on listening to it and it drove my poor Dad nuts.
Christmas ornament that best describes you?
J: Either the lights, or a glitter Christmas ball. I love this time and season. I love glitter and sparkle. I think this time of year is so special for all of the family time, and how amazing it is when people get wrapped up in the cheer, love, and kindness that the holiday brings.
K: A handmade ornament! You know the tacky ones made by kids, covered in way too much glue and filled with so much love? I love love love my family; they have played a huge role in who I am today. The unique, handmade ornaments that decorate a tree each contribute to telling a family's story. Each ornament adding to the beauty of the family Christmas tree.
Where did you spend your first Christmas?
J: At my baba's house in Smokey Lake, Alberta with lot's of family!
K: I have no idea... Here in Calgary I think!
A holiday tradition/legacy you hope to pass on to your kids?
J: 12 Days of Christmas family sing song at the dinner table… it's super fun especially if there's mulled wine.
K: My parents always made Christmas so magical or us. Everything from half-eaten cookies, hand-written notes from Santa and dirty boot prints on the carpet from the fireplace to the tree. I want to create magic for my kids and help them believe in the beauty and wonder of the world around them.
We want to hear from you — share your own answers below!
We hope you have a wonderful, restful and inspiring holiday season spent with those you love most — family, friends and friends who feel like family.
Xoxo
Love, Jilaine and Kailey.