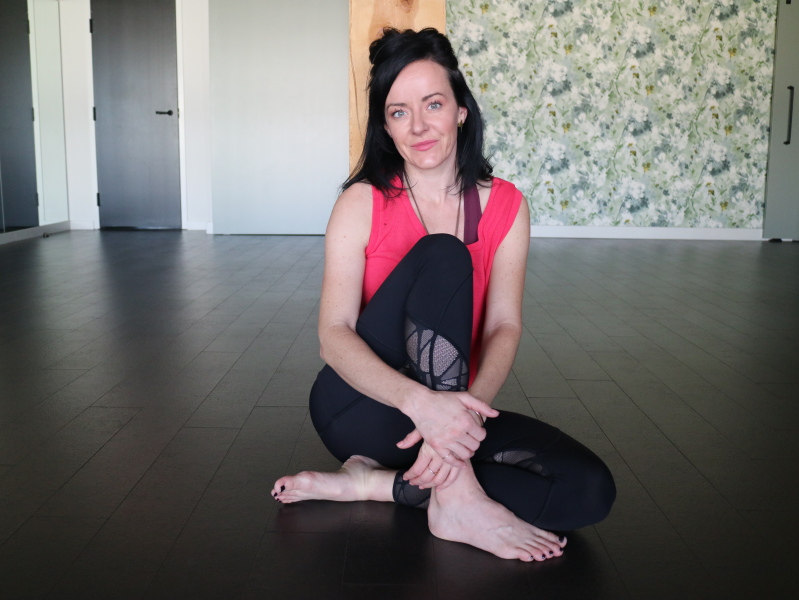 If you've ever been to one of Randelle Lusk's classes, chances are you've walked away scratching your head thinking "how in the heck did she remember all of that?" Her sequencing is unique, unexpected and will bring you to entirely new places both on and off your mat. Her words are potent and seem to resonate with all, regardless of what season of life you find yourself in. It may seem hard to believe, but prior to becoming a vinyasa yoga teacher Randelle worked in a corporate position in the oil and gas industry. So what is it like to make such a drastic shift? For Randelle, it stemmed from an incessant need to take the reigns back on her own life.
After a brief stint living in Calgary, Randelle chose to return home to Fort St. John — but soon felt her own purpose wavering due to a poor economy and no jobs. "I felt stuck in the scenario of being unemployed and feeling rather hopeless at the time. I needed yoga as an outlet," she says. Randelle had experienced firsthand the benefits of the practice and knew it could be a transformational tool for people to cope with their daily lives. Unfortunately, there was no access to yoga in her hometown. The thought then crossed her mind to become a teacher herself.
"A lot of that was making a decision to take the reigns back on my life and not wait for someone else to hire me, or value me, or give me some sort of cause in life. Understanding that what I needed was within me all along, and I could pull it out myself. So I decided to go do my training so that I could return and share yoga with other people in a town that I feel really needed it and continues to need it today," explains Randelle.
And so began Blacksmith Yoga. The name itself represents the strength and perseverance it takes to dig deep and forge something new. And that's exactly what Randelle did.
"I was told stats every time it got brought up of how frequently new businesses fail and that people didn't even know what yoga was. It was challenging, but there was something inside me that kept pushing forward regardless of whether or not it was going to work out," she says.
Our lives are peppered with subtle cries for change. Perhaps it's a job, a city, or a relationship. Perhaps it's a habit, a skill or a calling. We either start out or we start over. Whatever it is, our unwillingness to act on that change is most often rooted in fear. But at what point does the fear of stagnation become scarier than the fear itself?
In her colourful and convicting book "The Crossroads of Should and Must," author Elle Luna explains,
"Must is a choice you make every single day. Today. Tomorrow. Again and again. Must. It is constant effort and hard work — and inexplicably life-affirming—to honour who you are, what you believe, and why you are here. To choose Must is the greatest thing you can do with your life because this congruent, rooted way of living shines through everything that you do. Your sacred space and daily efforts will become even more sacred. You will build a beautiful world for your Must."
It's one thing to feel something. It's another to act on it. So ask yourself, where in my life am I resistant to change? What fear is holding me back? What is my must?
Randelle currently operates her studio from afar and has become one of our city's most influential yoga teachers. Her life, had she not operated from that place of must, would have looked a whole lot different than it does now.
"My favourite quote is 'If you bring forth what is within you it will save you. If you don't bring forth what is within you it will destroy you,'" she says. "[your purpose] doesn't have to be grand, it just has to be your own greatness. I think people get really caught up in 'it has to be drastically impactful or it has to be glamorous' when in reality it just has to be you. What do you have to offer? Because it's absolutely necessary for the good of mankind."
Want to learn more wisdom and knowledge from the yogi herself? Randelle is leading another 200-hour YTT starting this January. Click
here
for more details.