Krista Reierson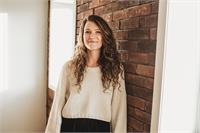 Krista is a creative entrepreneur based out of Calgary, AB with a background in psychology and psychosomatic healing. Her exposure to yoga and meditation came as a result of her personal health hitting rock bottom; somewhere deep within she knew she had the ability to heal, nurture, and love herself back into wholeness. Through her committed practice and study, Krista learned how to rewired her brain and return to her Highest expression so she could be of service to others. She is passionate about empowering the human psyche and guiding people to their innate wisdom.
Krista Reierson instructs the following:
Kundalini Yoga is the yoga of awareness: it is a system of ancient yogic postures, breathwork, meditation, mantra, and mudra to strengthen the nervous system and balance the glandular system.
This practice is about awakening the 10 bodies (we have ten!), learning how to direct the life force energy in the body, stimulating reserves of energy, clearing and purifying the residue of the past, and developing the courage and strength to show up fully for this life.
Kundalini Yoga is a pragmatic approach to sustainable happiness designed for our fast-paced lifestyle.
Everyone Welcome. No previous experience necessary.




Investment $25 + gst




The Summer and Winter Solstice mark a time when the divine cosmic energy can help you to elevate your consciousness and your health.

We gather this Winter Solstice, with Krista Reierson, to celebrate the beginning of winter in the Northern Hemisphere: a time to go inward, to honour the darkness both within and without as it's the shortest day and longest night. And, we celebrate the promise of light returning by celebrating the light within. We will use this auspicious time to elevate our experience of ourselves by travelling within, opening up energy flow in the body, and inviting our prayers to be heard and held in the hearts of the collective.

We will be practicing light movement, mantra and meditation so bring comfortable clothes, a yoga mat, journal, an item you would like to have charged on the altar, and an open heart.

Join us for a transformative evening that will set you up for the year ahead.