Karyn Duffy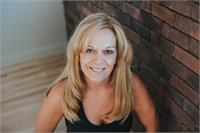 I love and live by a holistic healthy lifestyle including balanced nutrition and being outdoors & active year round. I love mountain biking, hiking, tennis, and any other outdoor activities I can find.
I strive to always be learning new and innovative ways to challenge the body and embrace new trends in fitness beyond just Pilates. Deeply passionate about helping others improve their posture, reduce pain, and transform their bodies - I am blessed to be able to make a career out of it.
I am a fully certified STOTT PILATES® Instructor including Matwork, Reformer, Cadillac, Chair, Ladder Barrel, Arc Barrel and Spine Corrector to advanced levels as well as Injuries and Special Populations. In addition, I am a certified Zen-Ga Instructor, Neurokinetic Therapy Level 1, CAN FIT PRO® Personal Trainer Specialist, AFLCA Aqua Fitness Instructor, TRX® Suspension Trainer, and Metafit HIIT Trainer.
Karyn Duffy instructs the following:
This class will elevate your expectations of strength and endurance while challenging your muscles and your mind. A total body workout, creatively utilizing the Reformer with a variety of props including, hand weights, fitness circle, resistance bands and cardio tramp to challenge you in unique ways each class. Expect to sweat and work as hard as you wish in this open level class. Modification will be given to allow everybody and Every Body to discover your own goals and safely challenge yourself beyond what you thought was possible. *This class is recommended for those who have taken Reformer Align classes and are comfortable with the Pilates basics.




Utilizing breath with controlled & isolated movement and mental focus, this class will allow you to connect with muscles you never knew you had. An alignment based class, designed to challenge you to rediscover your posture, and find balance and stability, as you strengthen your body in new ways. This class will move at a pace that allows you to focus on functional movement and prepare you with a strong foundation and increased body awareness. The challenge of this class is in the slow and controlled movement, expect to be challenged by the basics. This class is open to all levels. *We recommend taking 6 Reformer Align classes before progressing.