Lauren Hutchings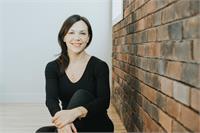 My journey on this path began when I attended an intro yoga class at a studio here in Calgary. I felt at ease as my breath held space for me to connect with my body in present time. It was an amazing feeling and sparked the right amount of curiosity which ignited my passionate career path today. In 2012, I went on to complete a 200 hour teacher training at Yoga Passage, followed by a Yoga Nidra certification with Tanis Fishman. I later completed my level 3 of Critical Alignment Yoga and Therapy training with Gert Van Leeuwan and spent 2 months living in a Satyananda Ashram in New Zealand. My passion lies in yoga therapy, trauma recovery and psychosomatic healing. Today, I focus my teaching on Thrive yoga for Cancer survivors, yoga for a mental health unit at the FMC and Therapeutic Yoga classes that integrates practices of Critical Alignment Therapy. The practice of yoga and mindfulness, be it in movement or in stillness, has reshaped my life and will continue to be a life long self-study. I believe that we can connect to our purest potential and the core of who we are through the practice of disconnected awareness; where we discover the ability to quietly tune back into the wisdom of our hearts time and time again. This practice has changed my life and I am so blessed to have the opportunity to pay this beautiful gift forward.
Lauren Hutchings instructs the following:
A class of exploration for syncing movement and breath. We will uncover the magic of non-sequenced flow, and how the wide array of postures linked with pranayama will help support and build a strong mind, body and heart. Each class will be a different experience based on your teacher's creative choice and background to bring you to new depths and your edge on that particular day. Vinyasa yoga is an opportunity to challenge yourself while accessing a non-traditional flow and the way in which you show up on your mat. How we do one thing is how we do everything. We can't wait to meet you on your mat, and see where our movement takes us. Everyone is welcome to this class. It will meet you wherever you are in your own personal practice.

"movement steeped in breath + strength" Jennifer Mehalko

"A class that is always slightly different and inspired by what I am working through in my own life and personal practice. Each class is like a fingerprint, unique and different… just like us..." Kate W. Mak




"Strong and sweaty" Adriana Britton

"I adore this style of yoga as it helps us to remember our inner strength through the manifestation of the physical body. I'm inspired to teach this because it brings people to the edge of their perceived limitations and encourages them to get curious." Stacey Irvine




Start your day with awareness, movement, and breath with this vinyasa based practice. This class will get your heart pumping, while working with your body post sleep. An energetic practice that blends sweat, strength and flexibility in a class that thoroughly tones the body and disciplines the mind. Everyone welcome.

"There's something extra special about these early morning classes because everybody in the room took the extra effort to set the alarm and set off while most of the city is still sleeping. It's a warm, inviting kind of energy and I use that to gently wake the deepest parts of ourselves before firing it up to set you for the rest of the day..."




"A slow, sacred, rhythmic start to the day. Focus is on alignment and breath and deep, intimate self love." Jamie Cameron




"I believe in the power of intention, ritual and following the rhythms of mother nature. Sunrise yoga brings me closer to each of these practices at the same time..." Stacey Irvine




The class is a beautiful balance starting with a steady practice matching movement and breath, heart with lungs. Your teacher will create a fluid unique sequence with a primary focus on generating internal heat through breath, sun salutations, balance, and strength. Once you are warm, muscles primed, you will transition into a sweet surrender of restorative yoga postures and the use of props to allow your mind and body to unwind. All levels welcome.