Julie Conlin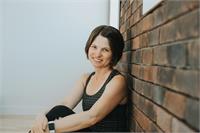 I have always had a love for movement and dance and a fascination
with the human body. In my youth I actively pursued Highland
Dancing and Cheerleading as a way to embrace this passion. I
studied Anatomy at the U of S and Medical X-ray Technology at
NAIT. I loved working with people and being a piece of the puzzle in
their health journey. A severe whiplash injury in 2004 forced me to
seek many types of medical treatment and eventually led me to post
rehab Pilates sessions. Working on the Reformer reignited my love of
movement and soon after I began my journey to become a STOTT
Pilates Certified Instructor (2014). I love to work one on one with
clients helping them to embrace and refine their Pilates practice and
enjoy the energy and challenge that comes with teaching a group
class. In an effort to learn more about the Human Body I recently
completed my Level 2 Instructor Training in The MELT Method, a
Self-Treatment system to Eliminate Chronic Pain. When not doing or
thinking about Pilates & MELT I enjoy spending time with my
husband Tim and 3 nearly grown children. I look forward to meeting &
sharing my love of Pilates with you and joining you on your journey of
achieving a healthier body
Julie Conlin instructs the following:
This class will elevate your expectations of strength and endurance while challenging your muscles and your mind. A total body workout, creatively utilizing the Reformer with a variety of props including, hand weights, fitness circle, resistance bands and cardio tramp to challenge you in unique ways each class. Expect to sweat and work as hard as you wish in this open level class. Modification will be given to allow everybody and Every Body to discover your own goals and safely challenge yourself beyond what you thought was possible. *This class is recommended for those who have taken Reformer Align classes and are comfortable with the Pilates basics.




Utilizing breath with controlled & isolated movement and mental focus, this class will allow you to connect with muscles you never knew you had. An alignment based class, designed to challenge you to rediscover your posture, and find balance and stability, as you strengthen your body in new ways. This class will move at a pace that allows you to focus on functional movement and prepare you with a strong foundation and increased body awareness. The challenge of this class is in the slow and controlled movement, expect to be challenged by the basics. This class is open to all levels. *We recommend taking 6 Reformer Align classes before progressing.