Caitlin Montgomery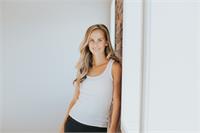 I have been teaching yoga in Calgary since 2009. The saying, "when the student is ready, the teacher appears" has held true for me during my yoga journey. I have been blessed to learn from a variety of wonderful teachers over the years as my practice and understandings evolve. For me, the practice of yoga is a powerful tool for us to really know ourselves on a deep level, to remember who we are and to connect to our life's purpose. I am so grateful to be teaching at Junction 9! I love getting to know all of the wonderful yogis!
Caitlin Montgomery instructs the following:
In this slowed down class, we have brought focus to alignment. The teacher will offer the building blocks with modifications/alternatives for sun salutations so you will have confidence to head into our Power Class while still giving you a challenge. You will get all the benefits of our flow class, but at a pace to deepen your knowledge, and foundation of the postures. You will be guided through a variety of traditional and non-traditional yoga movements to develop functional ranges of motion and a deeper sense of body awareness. Detailed cuing, creative sequencing and props will help you discover new possibilities of movement. All levels welcome.

This is a great class if you are nervous to jump into a Power Vinyasa Class or are dealing with any physical injury that would prevent you from feeling confident in downward facing dog, or sun salutations.

"Alignment based vinyasa. Slow and steady movement with a focus on developing structure and alignment in the body. Develop a strong foundation in your poses to build strength and flexibility." Adriana Britton




"A smooth flowing, strength building and stamina testing practice. Strong focus on postural alignment, with meditation and breath work components." Jamie Cameron




A class of exploration for syncing movement and breath. We will uncover the magic of non-sequenced flow, and how the wide array of postures linked with pranayama will help support and build a strong mind, body and heart. Each class will be a different experience based on your teacher's creative choice and background to bring you to new depths and your edge on that particular day. Vinyasa yoga is an opportunity to challenge yourself while accessing a non-traditional flow and the way in which you show up on your mat. How we do one thing is how we do everything. We can't wait to meet you on your mat, and see where our movement takes us. Everyone is welcome to this class. It will meet you wherever you are in your own personal practice.

"movement steeped in breath + strength" Jennifer Mehalko

"A class that is always slightly different and inspired by what I am working through in my own life and personal practice. Each class is like a fingerprint, unique and different… just like us..." Kate W. Mak




"Strong and sweaty" Adriana Britton

"I adore this style of yoga as it helps us to remember our inner strength through the manifestation of the physical body. I'm inspired to teach this because it brings people to the edge of their perceived limitations and encourages them to get curious." Stacey Irvine




During this class you will be guided through a yoga asana movement practice that is relevant to the inherent theme of each class, followed by a yoga nidra and meditation. The asana practice helps prepare the body for a deep sense of connection, leading to a more holistic experience of relaxation in the body and mind before settling into your extended savasana nidra practice. If you would like to bring a head/neck pillow, journal and pen please feel free. All Levels Welcome.

Yoga Nidra, also know a yogic sleep, is an ancient methodology providing a systematic practice of a deep relaxation, that sets the body/mind up for an experience of your deep qualities of awareness. During this state, you are able to access a depth of healing by replenishing your body physiology, an relaxing your mind and emotions, in order to establish a clear trajectory to help shift and move your life along positive lines.