Alfred Sia Lu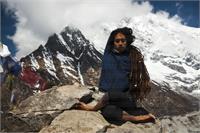 The start of my Yoga story was not a glamorous one. A friend and I decided to try out the latest exotic trend to hit the western world. Looking like a hot mess, my body tried in vain to match the various pretzel formations of the other people in the room. At the end of the class, while I lay in a puddle of my own primordial pool of sweat came this immense physical and emotional release. After practicing for 10 years I headed to Rishakesh, India to pursue a 200hr Teaching program under the wise eyes of Yogi Vishvketu. Close by the banks of the Ganges river is where we learned how to connect the mind, body, and the breath. While my practice has evolved since that time, I still remember that humble beginning. It continues to inform how I share this beautiful tradition with my students wherever they are in their journey.
Alfred Sia Lu instructs the following:
This class is a blend between long held held yin stretches, and more supportive restorative poses to ease the mind and body. Poses will be held between 3 and 5 minutes, while your teacher guides you through mindfulness and relaxation techniques. This is a great class to balance a more active yoga practice or simply unwind after a long day. All levels welcome.