Cathy Morrison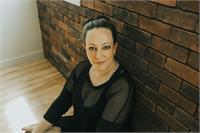 Stott Pilates®, Yoga Alliance® E-RYT, Yamuna Body Rolling® Cathy has always loved movement and has spent her life immersed in dance. She combined her passion for learning and teaching others by pursuing a career in fitness. Although she originally got involved in the industry by accident, she soon discovered how fulfilling and fun it was. She works full time teaching all types of classes and has experience as an director, educator and presenter. She hopes to inspire her participants to find better balance in their bodies, while having a great time.
Cathy Morrison instructs the following:
Let's step it up! This is a dynamic, fun and fast paced class. Flowing exercises together and connecting movement with breath. A small step away from traditional Pilates, this class will challenge you to maintain stability, balance and breath as you move energetically from one exercise to the next, while changing tempo & range of motion. Quicker transitions, and fewer spring changes will ensure that you will make the absolute most of our 50 minutes together. There is an expectation that you are comfortable with the Pilates Principles, blueprint exercises and moving around the reformer safely.
*This class is recommended for those who have completed a minimum of 6 Reformer Align classes and is not recommended for those recovering from an injury.




This workshop nicely balances theory with practice! It will set you up with the foundations and tools you need to ensure you are getting the most out of your Pilates practice. In this workshop we will cover the 5 foundations of Pilates – these are designed to ensure correct postural alignment and encourage safe and intelligent movement. We feel strongly that being introduced to these foundations in a workshop setting prior to joining a group class will ensure you are comfortable and confident in the group setting and will allow the instructor to focus on the class as a whole rather than on a few individuals. This workshop will teach you how to set up your equipment and introduce you to the many props and accessories you will be using in group classes. As much as this is about safety it is also about you feeling self-assured – that you know what you're doing!! Forget having to fumble through your first class, tangled in your springs and straps. Walk in there like a pro, know your settings and kick butt! "Self confidence is the best outfit, ROCK IT and OWN IT!"




This class will elevate your expectations of strength and endurance while challenging your muscles and your mind. A total body workout, creatively utilizing the Reformer with a variety of props including, hand weights, fitness circle, resistance bands and cardio tramp to challenge you in unique ways each class. Expect to sweat and work as hard as you wish in this open level class. Modification will be given to allow everybody and Every Body to discover your own goals and safely challenge yourself beyond what you thought was possible. *This class is recommended for those who have taken Reformer Align classes and are comfortable with the Pilates basics.




Utilizing breath with controlled & isolated movement and mental focus, this class will allow you to connect with muscles you never knew you had. An alignment based class, designed to challenge you to rediscover your posture, and find balance and stability, as you strengthen your body in new ways. This class will move at a pace that allows you to focus on functional movement and prepare you with a strong foundation and increased body awareness. The challenge of this class is in the slow and controlled movement, expect to be challenged by the basics. This class is open to all levels. *We recommend taking 6 Reformer Align classes before progressing.




A higher energy, low-impact class that is perfect for cardio lovers. This interval class is creatively designed with Reformer exercises intermixed with jumping on the Cardio Tramp to enable plyometric movement against spring tension (rather than gravity) giving you an aerobic workout that is kinder to your joints. A heart pumping, leg burning core centered class. Expect to sweat and laugh through this fun & energetic 50-minute class. *This class is recommended for those who have completed a minimum of 6 Reformer Align or Level 1 classes and is not recommended for those recovering from an injury.