JoAnna Herring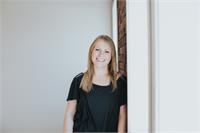 JoAnna Herring - BA Dance, BKin, STOTT PILATES® Certified Instructor JoAnna Herring has had a love for dance and movement since she was a child. By making use of her background in Ballet, Jazz, Contemporary dance, and Kinesiology, she has made Pilates an accessible and exciting way to redefine the way you use your body. While completing her Bachelor of Arts in Dance at the University of Calgary (2008), JoAnna was introduced to Pilates; she was fascinated by its focused movements and many biomechanical benefits. To improve her knowledge base in this field, JoAnna obtained her Bachelor of Kinesiology at the University of Calgary (2011). During her time in university, JoAnna had the opportunity to teach dance and movement to people of all ages. She was not only given the chance to find out how people understand movement on a personal level, but was able to supplement her teaching with an anatomical background. In 2011, JoAnna began working at a physiotherapy clinic, prescribing and teaching rehabilitative exercise to physiotherapy patients; this was when her love for Pilates was reignited. JoAnna realized that Pilates was the ideal method to improve the lives of her patients and she made the move to become a STOTT PILATES® Certified Instructor (2014). Pilates has turned into a passion for JoAnna, allowing her to bridge her love of movement, her physiological knowledge of the body, and her desire to help others. When JoAnna isn't teaching Pilates, you can catch her camping, watching funny movies, or enjoying a glass of wine. She loves getting outside when the weather is nice, and spending quality time with friends and family. Keeping things positive is the aim of her game! JoAnna would love the chance to meet you, and help you overcome chronic injury, improve your posture, your flexibility, and your athletic performance.
JoAnna Herring instructs the following:
Utilizing breath with controlled & isolated movement and mental focus, this class will allow you to connect with muscles you never knew you had. An alignment based class, designed to challenge you to rediscover your posture, and find balance and stability, as you strengthen your body in new ways. This class will move at a pace that allows you to focus on functional movement and prepare you with a strong foundation and increased body awareness. The challenge of this class is in the slow and controlled movement, expect to be challenged by the basics. This class is open to all levels. *We recommend taking 6 Reformer Align classes before progressing.