Liberate: Somatic Release
This class is taught by: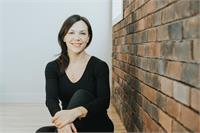 My journey on this path began when I attended an intro yoga class at a studio here in Calgary. I felt at ease as my breath held space for me to connect with my body in present time. It was an amazing feeling and sparked the right amount of curiosity which ignited my passionate career path today. In 2012, I went on to complete a 200 hour teacher training at Yoga Passage, followed by a Yoga Nidra certification with Tanis Fishman. I later completed my level 3 of Critical Alignment Yoga and Therapy training with Gert Van Leeuwan and spent 2 months living in a Satyananda Ashram in New Zealand. My passion lies in yoga therapy, trauma recovery and psychosomatic healing. Today, I focus my teaching on Thrive yoga for Cancer survivors, yoga for a mental health unit at the FMC and Therapeutic Yoga classes that integrates practices of Critical Alignment Therapy. The practice of yoga and mindfulness, be it in movement or in stillness, has reshaped my life and will continue to be a life long self-study. I believe that we can connect to our purest potential and the core of who we are through the practice of disconnected awareness; where we discover the ability to quietly tune back into the wisdom of our hearts time and time again. This practice has changed my life and I am so blessed to have the opportunity to pay this beautiful gift forward.
Investment $30 + gst
When we deny our innate ability to process unpleasant or traumatic experience, our body stores this experience as tension and dis-ease within our tissues. Through cathartic movement and somatic release, we have the ability to uproot and discard the stories that no longer serve us without the intervention of the analytical mind.

The evening will include energizing and detoxifying movement combined with a somatic release exercise commonly used for trauma relief. The somatic movements portion of practice is based on Trauma Release Exercise to evoke the natural mechanism of shaking that we as humans, suppress out of shame or guilt. This practice is aimed to gradually fatigue the body and liberate the thinking mind, to then diffuse residual physical, mental and emotional tension within. Whatever your experience; internal, external, tangible or internally created, this work can help and heal.

Please bring water, mat, and journal. No reflection or understanding is necessary; come ready to move and be moved.