Drum Journey
This class is taught by:
I was born and raised in Mexico City, my father was Argentinian, my mother from Mexico and my grandparents from Italy. In my childhood and my youth, I was a city boy immerse in the city life, raised as catholic my family used to go to church once a month and hardly connected to the spiritual world, growing up I got married and was very fortunate to have two amazing boys throughout 17 years of marriage there was no close contact with any spiritual path yet so many family activities, traveling and doing what a regular family does, until one day I started to wonder about my life and to ask so many question about existence, I was overwhelmed and this led me to a separation. A huge pain I experienced because I just couldn't understand why I was choosing to go to a unknown journey, where there was nothing. To start looking for answers I was drawn to Buddhism and East Indian teachings I studied and practiced this traditions, this path led me to a trip that changed my life forever, I went to Mexico with the ''Wirarika'' people an indigenous tribe called for the mestizos ''Huicholes'', went to a pilgrimage called ''The pilgrimage of life'' many rituals, ceremonies, learning their ways and reconnecting with mother earth, Padre Sol, with the elements, with the directions, I developed a passion and love for the native traditions, back in Calgary I connected with the Blackfoot and Cree but mostly my teachings came from the Cherokees, I was naturally drawn to shamanism, I was initiated into their ways, transformative capacity, inherent healing and gifted and honored to access the wisdom to facilitate and most important bring back the sacredness of the native traditions.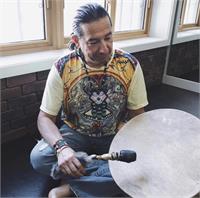 Investment $25 + gst
You will be guided through a powerful and traditional journey via the rhythm and medicine of the drum.
This meditative experience has been handed down to us through the centuries from the ancestors of our land.In the past the wisdom of our elders was difficult to access, however Cesar has had many spiritual encounters through use of the medicine wheel, Native ceremonies, pilgrimages and vision quest, which now allows him to access that wisdom and use it in ceremonies.
He is honored to share his respect and love of this ancient culture with you and bring back the sacredness of these traditions.
Upcoming classes: