Hip Hop Flow
This class is taught by: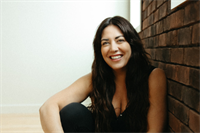 I have always loved making it to my mat, but my true love for yoga began while rehabbing a persistent running injury. I was forced to slow down and heal and commit to a consistent practice. I loved it so much that in 2008 I travelled to Costa Rica to take my first yoga training. It was life changing. I found love. Now I get to share that love in this beautiful community that Junction 9 has brought together. Breathe it all in, love it all out.
This class will be a unique Vinyasa class choreographed to a different Hip-Hop playlist every week. Come with an open mind and take a journey through music and movement. Your teacher will create a fluid unique sequence with a primary focus on generating internal heat through breath, sun salutations, balance, and strength. You will get to experience a different practice every time you take this class as our teachers use their creative abilities to challenge and help you grow. Everyone welcome.
Upcoming classes:
Sign Up

Wed

Dec 12 7:15 pm - 8:30 pm

with

Stef

Rizvi




Sign Up

Wed

Dec 19 7:15 pm - 8:30 pm

with

Stef

Rizvi




Wed

Jan 02 7:15 pm - 8:30 pm

with

Stef

Rizvi




Wed

Jan 09 7:15 pm - 8:30 pm

with

Stef

Rizvi




Wed

Jan 16 7:15 pm - 8:30 pm

with

Stef

Rizvi




Wed

Jan 23 7:15 pm - 8:30 pm

with

Stef

Rizvi




Wed

Jan 30 7:15 pm - 8:30 pm

with

Stef

Rizvi




Wed

Feb 06 7:15 pm - 8:30 pm

with

Stef

Rizvi




Wed

Feb 13 7:15 pm - 8:30 pm

with

Stef

Rizvi




Wed

Feb 20 7:15 pm - 8:30 pm

with

Stef

Rizvi




Wed

Feb 27 7:15 pm - 8:30 pm

with

Stef

Rizvi




Wed

Mar 06 7:15 pm - 8:30 pm

with

Stef

Rizvi




Wed

Mar 13 7:15 pm - 8:30 pm

with

Stef

Rizvi




Wed

Mar 20 7:15 pm - 8:30 pm

with

Stef

Rizvi




Wed

Mar 27 7:15 pm - 8:30 pm

with

Stef

Rizvi




Wed

Apr 03 7:15 pm - 8:30 pm

with

Stef

Rizvi




Wed

Apr 10 7:15 pm - 8:30 pm

with

Stef

Rizvi