Yoga & Nidra
This class is taught by: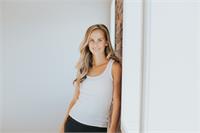 I have been teaching yoga in Calgary since 2009. The saying, "when the student is ready, the teacher appears" has held true for me during my yoga journey. I have been blessed to learn from a variety of wonderful teachers over the years as my practice and understandings evolve. For me, the practice of yoga is a powerful tool for us to really know ourselves on a deep level, to remember who we are and to connect to our life's purpose. I am so grateful to be teaching at Junction 9! I love getting to know all of the wonderful yogis!
During this class you will be guided through a yoga asana movement practice that is relevant to the inherent theme of each class, followed by a yoga nidra and meditation. The asana practice helps prepare the body for a deep sense of connection, leading to a more holistic experience of relaxation in the body and mind before settling into your extended savasana nidra practice. If you would like to bring a head/neck pillow, journal and pen please feel free. All Levels Welcome.
Yoga Nidra, also know a yogic sleep, is an ancient methodology providing a systematic practice of a deep relaxation, that sets the body/mind up for an experience of your deep qualities of awareness. During this state, you are able to access a depth of healing by replenishing your body physiology, an relaxing your mind and emotions, in order to establish a clear trajectory to help shift and move your life along positive lines.
Upcoming classes:
Sign Up

Mon

Dec 10 8:50 pm - 9:50 pm

with

Matthew

Kelemen




Sign Up

Thu

Dec 13 7:15 pm - 8:30 pm

with

Caryn

Kilback




Sign Up

Mon

Dec 17 8:50 pm - 9:50 pm

with

Caitlin

Montgomery




Sign Up

Thu

Dec 20 7:15 pm - 8:30 pm

with

Caryn

Kilback




Thu

Dec 27 7:15 pm - 8:30 pm

with

Caryn

Kilback




Thu

Jan 03 7:15 pm - 8:30 pm

with

Caryn

Kilback




Mon

Jan 07 8:50 pm - 9:50 pm

with

Caitlin

Montgomery




Thu

Jan 10 7:15 pm - 8:30 pm

with

Caryn

Kilback




Mon

Jan 14 8:50 pm - 9:50 pm

with

Caitlin

Montgomery




Thu

Jan 17 7:15 pm - 8:30 pm

with

Caryn

Kilback




Mon

Jan 21 8:50 pm - 9:50 pm

with

Caitlin

Montgomery




Thu

Jan 24 7:15 pm - 8:30 pm

with

Caryn

Kilback




Mon

Jan 28 8:50 pm - 9:50 pm

with

Caitlin

Montgomery




Thu

Jan 31 7:15 pm - 8:30 pm

with

Caryn

Kilback




Mon

Feb 04 8:50 pm - 9:50 pm

with

Caitlin

Montgomery




Thu

Feb 07 7:15 pm - 8:30 pm

with

Caryn

Kilback




Mon

Feb 11 8:50 pm - 9:50 pm

with

Caitlin

Montgomery




Thu

Feb 14 7:15 pm - 8:30 pm

with

Caryn

Kilback